Overview – Singapore Turf Club (STC) reopened racing on 3 January with a capacity limit on number of attendees. Subsequently, amid tightened COVID-19 measures, races were held behind closed doors from 22 May 2021. STC phased reopening of races from 27 June 2021 in line with Phase 3 (Heightened Alert). But, races reverted to running behind closed doors since 25 July 2021 with Phase 2 (Heightened Alert). No spectator was allowed and all forms of activities including witnessing of barrier draw, trial & practices, and visitation of stables were suspended. Stable visitation resumed from 12 August 2021 for owners who were fully vaccinated. STC and Tote Board in early September attempted to seek Ministry of Health (MOH) approval for race re-opening, as permitted prior to Phase 2A, but one of the conditions is that Food & Beverages shall not be served for the entire duration of the races. STC had lodged an appeal to MOH to reconsider this condition, which affects the comfort and well-being of owners and their guests. Visitation of stables was suspended from 25 Sep 2021 and resumed from 30 Nov 2021.
Races continued to be conducted once a week. Feature races had been reduced from 24 feature races (with total prizemoney $11M) in 2019 to 17 feature races (total prizemoney $6.45M) in 2020. In 2021 the feature races were further reduced to 10 feature races (total $3.82M). The 2021 prizemoney for non-feature races were unchanged from the restructuring of 2019, in which the prizemoney for Class 5 races has been increased to $30k and to help fund this increase, the prizemoney of races in Classes 1, 2 and 3 and Restricted Maiden/Novice have been adjusted accordingly. It has been financially unattractive for owners with reduced feature races and prizemoney. Furthermore due to suspension of spectators, they cannot experience the thrill of cheering their horses to win and leading them to take winning photos with their partners and friends.
Trainer Mr Lee Freedman and Trainer Mr Cliff Brown left in March and Trainer Mr Mark Walker in mid December announced his intention to leave by the new racing season.
Overall TOAST Racing Trust had a total of three wins: Proof Perfect (03/01/2021), Charger (29/05/2021), and Mesmerizing (25/09/2021).
30 Dec 2021 – TOAST would like to congratulate Mr Stephen Crutchley on being granted 30 stable boxes by the Singapore Turf Club, with effect from the new 2022 season. Stephen was a professional trainer in New Zealand from 2002 to 2014. He moved to Singapore in 2014 where he joined trainer Mr Mark Walker as stable manager. Then he became assistant-trainer to Mr John OHara, twice, Mr Theo Kieser and more recently, Mr Leslie Khoo. Stephen is a complete horseman from having good eyes for horse purchases, breaking in young horses, riding and educating difficult horses himself, hands-on stable management to training group horses, which included helping to train our Group 2 winner, Fame Star. Stephen is honest in updating the status and condition of every horse under his care, which is valuable information for owner's horse evaluation. We wish Stephen training success in the years ahead.
26 Sep 2021 – We share the sadness of TOAST committee member Mr Peter Ugland on the passing of his horse of over 17 years, Beefy Bingham. Peter had given Beefy, after his racing career, a second chance of life as a riding horse at Bukit Timah Saddle Club (BTSC), ridden by him and Mr Chris Joseph (former BTSC Manager and Amateur Rider).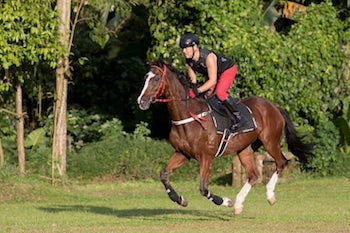 click here for enlarged photo
Peter riding Beefy at BTSC heathtrack
25 Sep 2021 – TOAST new Argentinian import Mesmerizing lived up to his name with a mesmerizing finish at his first Singapore race in the $20k Open Maiden (1600m P) wining by 4.8L. A 4yo entire by Cosmic Trigger, Mesmerizing is owned by Toast Trusts & Mesmerizing Stable and trained by Mr Leslie Khoo and Mr Stephen Crutchley.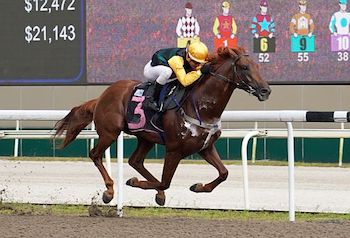 click here for enlarged photo
Mesmerizing wins Open Maiden 1600m (photo: STC)
3 Sep 2021 – A former TOAST horse Kamsky left Bukit Timah Saddle Club (BTSC) for a dressage-riding career at Universiti Teknologi Malaysia (UTM) Equine Park, which promotes equestrian sports (endurance, show jumping, dressage) among UTM students and staff and the public in the state of Johor. Kamsky had a riding career at BTSC as a leisure-riding horse for over 12 years after retirement from racing. As a racehorse, Kamsky had 3 wins in Australia, and an unplaced run (16/24) in 2005 Melbourne Cup race, and 2 wins in Singapore.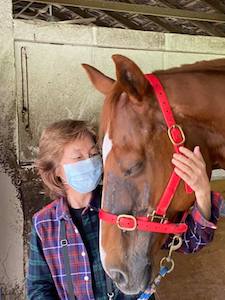 click here for enlarged photo
Kamsky before leaving BTSC
1 Sep 2021 – TOAST gave feedback to STC that it should proceed with the Restricted Maiden races even if the field is small. Many racing jurisdictions would carry on races (even at Group level) with field as small as 3 or 4 horses, as the interest of owners and trainers has to be looked after. Another feedback was on track condition, a serious concern with frequent continuous heavy rains and the lack of settlement time given for the ongoing replacement of polytrack materials then before racing on it. In our opinion, the present weather and track situation would only allow limited races to once a week, despite calls for more racing, for the safety of riders and horses.
12 Aug 2021 – TOAST gave feedback to STC that it is opportune in this pandemic time to revamp the profile of Horse Ownership. We need to see more owners of young age for continuity, and of professional and/or affluent status for good image in this sport. New owners have been hesitant to register as owner due to the current poor image of horse racing associated with gambling stigma. Our Government shall follow other racing jurisdictions to allow promotion of horse racing as a sport.
11 Jun 2021 – TOAST President Constance Cheng fractured her left hand during horse riding and following her recovery, on doctor advice, decided it was timely to hang up her boots.
29 May 2021 – TOAST horse Charger wins Class 4 S$50k 1200m poly, by a margin of 1.5L. With 6 wins and 14 placings over sprints, Charger has now won over $443k in total stakes money. Charger originally had two lessees under TOAST Trust stake lease terms. The lessees have been generally happy with this arrangement for four years and only recently decided to discontinue due to health reason and COVID-19 restrictions. TOAST Trust stake is ideal for beginners to gain experience in horse ownership and does not require a large capital for horse purchase.
25 May 2021 – Jockeys were wearing black armbands during the first race as a mark of respect to their former colleague Mr Nooresh Juglall. TOAST, together with trainers and jockeys, persuaded STC to include this commemoration in addition to their touching video broadcast, which highlighted his local riding achievements. We thank STC for their kind gesture.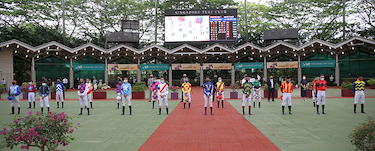 click here for enlarged photo
STC officials and jockeys, wearing black armbands, observing a minute silence at the Kranji parade ring in commemoration of their former colleague jockey Mr Nooresh Juglall (Image: STC)
17 May 2021 – TOAST gave feedbacks urging STC to make more effort and favourable arrangements in accommodating owners participation and interest like other racing jurisdictions. The current capacity of spectators may be increased by more zonings, such that each zone has an allowable capacity (presently 50 persons for sport event). Restricted measures may be implemented to avoid suspensions of activities like witnessing of barrier draw, barrier trial and practices, and visitation of stables. It will be a good strategy for STC to uplift the interest of unhappy and depressed owners by allowing their participation as far as possible.
15 May 2021 – We are saddened by the death of former MRA Jockey Mr Nooresh Juglall after a race fall at Champ de Mars racecourse in Mauritius. He left behind his wife Chaaya and two young sons Aryan and Ahaan, as well as his father Satanand, his mother Kavita, his sister Sweta and younger brother Tajesh, also a Mauritius jockey. TOAST President Ms Constance Cheng commented that Juglall was a good jockey who rode nine wins on our horses including Bandido (2 wins), Charger (2 wins), Silent Boss, Kaiso, Classic, Catch Me Great and Constance's Spirit. Our last dinner with him in Singapore was at Prima Tower and we opened a good red wine but Chaaya could not partake as she was expecting their first baby then. Our heartfelt condolences to her and his family. Ms Nathalie Fradd had organized The Aryaan and Ahaan Juglall Fund to help support them, which reached A$43,025 when closed. Hong Kong racehorse owner Mr Koo Ming-kown donated his prize winning of HK$700k on 19 May.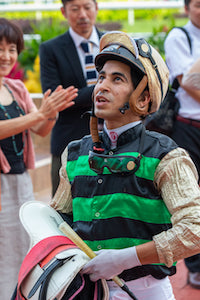 click here for enlarged photo
Jockey Nooresh Juglall after riding Charger to win Class 3 $80k (1200m T) by a nose on 11 Mar 2018 (Photo: sgracingphoto@gmail.com)
19 Apr 2021 – TOAST wishes to thank Mrs. Lily Ho for the preparation of the TOAST Statement of Accounts for the Year of Assessment 2021 and members Mr Dennis Loh and Mr Hong Kai Oh for contributing their time to the completion of the audit as Honorary Auditors.
17 Apr 2021 – The passing of our dear friend Mr Mike Leow saddens us. Mike was a former amateur rider at Bukit Timah Saddle Club (BTSC) and rode a few winners in Malayan Amateur Racing Association (MARA) races. He was a versatile and resilient person with knowledge of many trades, who had work in a variety of professions like horse trainer, labour supplier, and contractor. He acted as intermediary in many businesses. Mike leaves behind his wife and son Mr Leow Cheng Yao.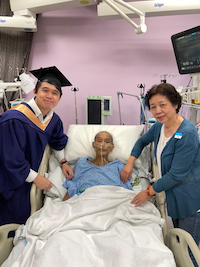 click here for enlarged photo
Fulfilling Mike's final wish to see his son's graduation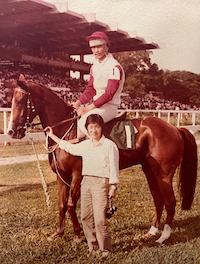 click here for enlarged photo
Amateur Rider Mike Leow on Singapore Prince, led by Ms Constance Cheng, after winning MARA Class 3 (1200m) by 4L at Perak Turf Club Amateur Meeting on 2 Jun 1982 (Photo: Scoop's Ipoh)
9 Mar 2021 – We express our deepest sympathies and heartfelt condolences to TOAST member Mr Lee Chee Guan and family on the passing of his father.
3 Jan 2021 – The new season started well for TOAST Racing Trust with a first local win by Proof Perfect at his 6th run in Singapore, in the $50k Class 4 Good Health Stakes (1100m P). In a thrilling 3-way finish, it was declared that Proof Perfect had dead-heated with Vulcan of M.A. Racing Stable, and the third horse, It's Got It All, was only a nose away.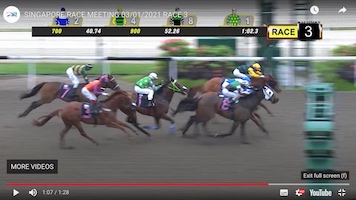 click here for enlarged photo
Proof Perfect at the finish line with Vulcan and It's Got It All (screenshot: YouTube)
---
Past Newsletters
Newsletter Jan 2020 - Dec 2020
Newsletter Jan 2019 - Dec 2019
Newsletter Jan 2018 - Dec 2018
Newsletter Jan 2017 - Dec 2017
Newsletter Jan 2016 - Dec 2016
Newsletter Jan 2015 - Dec 2015
Newsletter Jan 2014 - Dec 2014
Newsletter Jan 2013 - Dec 2013
Newsletter Jan 2012 - Dec 2012
Newsletter Jan 2011 - Dec 2011
Newsletter Jul 2010 - Dec 2010
Newsletter Jan 2010 - Jun 2010
Newsletter Jan 2009 - Dec 2009
Newsletter Mar 2008 - Dec 2008
Newsletter Feb 2007 - Feb 2008
Newsletter Jul 2006 - Jan 2007
Newsletter Dec 2005 - Jun 2006
Newsletter Aug 2005 - Nov 2005
Newsletter May 2005 - Jul 2005
Newsletter Mar 2005 - Apr 2005
Newsletter Nov 2004 - Feb 2005