• 18 Feb 2005 – TOAST Trust No. 1 updates: -

TOAST Trust No. 1 horse "All Strike" came in second for his barrier test on 13 Jan 2005. The other horse in the TOAST Trust No. 1, "Bronzino" had his first barrier practice on 20 Jan 2005 and he ran 2nd at his barrier test on 3 Feb 2005. Both horses have been entered for the same race (Restricted Maiden for 2&3 year old - weight for age - 1200m) on 20 Feb 2005.

Presently, there are only 3 stakes left for TOAST Trust No.1. Those interested to take up the balance stakes can contact TOAST executive Esther Ko at 97392322.

• 17 Feb 2005 – PFS Pte Ltd has kindly extended this offer to all TOAST members:
15% off all ala carte orders at the following establishments:
- Prima Tower Revolving Restaurant at 201 Keppel Road

- Teochew City Seafood Restaurant at Centrepoint

- Noodle Place Restaurant at Centrepoint
10% off for S$10 or more spent at Prima Taste Restaurant at Centrepoint
The offer is subject to the following terms and conditions:
Not valid for purchase of Prima Taste ready-to-cook pastes and PFS Dining Vouchers.
Not valid with set menus, promotional offers, other privilege cards and festive products.
Not valid on the eves of and on public holidays, 15 days of Chinese New Year and special occasions (Valentine's Day, Mother's Day, Father's Day).
Not valid for functions and banquets
The management of PFS Pte Ltd reserves the right to add, delete or amend the terms and conditions
without prior notice.
If you want more information on PFS Pte Ltd visit their website at this link www.pfs.com.sg.
| | | |
| --- | --- | --- |
| | | |
| Prima Tower Revolving Restaurant | | Teochew City Seafood Restaurant |
| | | |
| --- | --- | --- |
| | | |
| Noodle Place Restaurant | | Prima Taste Restaurant |
• 14 Feb 2005 – TOAST has provided an additional service for members who wish to advertise their horses for sale or lease. Please refer to the "Benefits & Services" page on the website.
• 12 Feb 2005 – Jeffrey J Kruger of Lyndhurst Stud Farm has joined TOAST as a member. Lyndhurst Stud Farm is one of the well-established studs in Australia since 1860. Jeffrey's father purchased the Stud in 1956.
Lyndhurst stands 6 stallions and the two most known to Singapore would be Sequalo (AUS) and Carry The Flag (GB). Sequalo is the sire of General Sequalo (trained in Singapore by Dr. Yeoh Kheng Chye and winner of 6 races already) and Sequalo was the Champion Queensland Sire 2003/2004 and Champion Queensland 2 Year Old Sire 2003/2004. Carry The Flag had 6 wins in in Europe and Singapore (1400m to 2400m) including the Singapore Gold Cup and 3rd in the Singapore Airlines International Cup. Carry The Flag is owned by our TOAST member Mr. Tan Kim Leng of Dragon Stable. Lyndhurst's other associate sires are Hayil (USA) by Dayjur, Canadian Silver (CAN) by Geiger Counter, Irish Royal (IRE) by Danehill and last but not least their grand old boy Celestial Dancer (IRE) by Godswalk. Celestial Dancer is now 26 years of age. More information on Lyndhurst Stud Farm can be found on the "Links" section of the TOAST website.
| | | |
| --- | --- | --- |
| | | |
| Sequalo at Lyndhurst Stud Farm with Jeffrey Kruger | | Carry The Flag, former Singapore racehorse now standing at Lyndhurst Stud Farm |
• 8 Feb 2005 – TOAST is pleased to announce the formation of TOAST Trust No. 2. Details on the new TOAST Trust can be found at the TOAST Racing Trust page.
• 1 Feb 2005 – TOAST member Mr. Shanker has generously offered all TOAST members a 15% discount on purchases made at their D'Equestrian Paradise (S) Pte Ltd saddlery shops. The locations and operating hours of their showroom and branches are as follows:
Location
Operating Hour
1
Head Office & Showroom
6 Tagore Drive

#01-05 Tagore Industrial Bldg

Singapore 787623

Mon to Sat:

9.30 am - 5.30 pm

Sun & Public Holidays: Closed

2
Turf City Branch

#01-42 Turf City

Bukit Timah

Tue to Sun:

11.00 am - 8.00 pm

3
Singapore Polo Club Branch
80 Mount Pleasant Road

Tue to Sat:

9.30 am - 12.00 pm

2.00 pm - 7.00 pm

Sunday: 3.00 - 7.00 pm
D'equestrian Paradise at Turf City

• 27 Jan 2005 – Ne

w TOAST Trust No.1 Stakeholder Mr. Tee Eng Kiong was an honorary official of Bukit Timah Saddle Club and is active in equestrian sports. Despite his busy work schedule at Shimizu Corporation (Singapore Office), he enjoys his occasional visits to the Turf Club.

He likes the concept behind the formation of TOAST. Says Tee, " TOAST has taken the first step and is moving in the right direction." He is hopeful that TOAST will one day help remove the social stigma attached to horse racing in Singapore. He remarked, "I am happy to be a member of TOAST. I like the concept behind the formation of TOAST and want to see it develop into a full-fledged organization."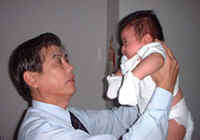 Mr. Tee Eng Kiong playing with his son, two-and-half-month old baby Jonathan.
• 25 Jan 2005 – "I am proud to be a TOAST Trust No. 1 Stakeholder and I believe TOAST has formed a solid foundation in the horse racing industry by providing professional advices and services to its stakeholders especially for first timer like myself. In addition, TOAST is also a good place to widen my personal interest, get to know more people from different background and also to explore new opportunities." said Melvin Ong, director of one of the biggest forklifts and heavy machinery distributors, whose operations are based in Penang, Malaysia.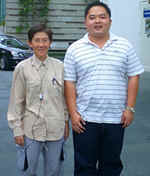 Melvin Ong in Singapore with TOAST President, Constance
• 3 Jan 2005 – Retired professional racehorse "Con Soborno" was named "Horse of the Year 2004" with 3 wins and 3 seconds (from 1600m to 1800m) in the Pro-Amateur Racing circuit in Malaysia. He is a small built horse weighing between 427 and 440 kg but has always carried the top weight of 79½ kg in all his amateur races. "Con Soborno" was trained by Singapore-based trainer Patrick Shaw when racing in professional rank.
| | | |
| --- | --- | --- |
| | | |
| Con Soborno after winning a 1600m race at Perak on 22 Jan 2004 | | Con Soborno after winning the Fegentri International Race at Selangor on 3 May 2004 |
• 31 Dec 2004 – TOAST Committee needs two TOAST members to help audit the Accounts for the year ending 2004 and 2005. Please contact TOAST executive Esther Ko at 97392322 if you are willing to volunteer your services.
• 30 Dec 2004 – Our TOAST member Dato Tan Chin Nam has been very supportive of TOAST. He will continue to provide his advice towards the progress and upgrading of horse racing in Singapore. He has leased his well-bred horse "Bronzino" for TOAST Trust No. 1. Dato Tan is well known in the Australian racing industry. He has been highly successful in the Melbourne Cup races with 3 wins from "Think Big" and "Saintly". This accomplishment is one that is rarely achievable. Both horses were trained by trainer Bart Cummings. Bart has been nicknamed "Cup King" due to the fact that he has won Australia's greatest race, the Melbourne Cup a record 11 times.
| | | |
| --- | --- | --- |
| | | |
| Saintly winning the 1996 Melbourne Cup for Dato Tan Chin Nam | | Bronzino, one of 2 horses in TOAST Trust No. 1 |
• 29 Dec 2004 – TOAST Member Steven Cheow has kindly volunteered to provide his service in maintaining and administering the TOAST website. He is a stakeholder of the STCRM Racing Trust. He was previously working in the IT department in the banking industry. He has now retired.
• 29 Dec 2004 – TOAST and SNTC have incorporated links to each other's websites on their respective internet pages.
• 14 Dec 2004 – TOAST Committee has accepted the resignation of Co-opt Committee Member Dr Omie Rangabashyam. TOAST expresses its gratitude to Dr Omie for his past contributions.
• 11 Dec 2004 – TOAST Trust No. 1 stakeholder Dr Low Hong Tong started owning racehorses with friends about 8 years ago. He rode in Pro-Amateur Race Meetings in Singapore and Malaysia during the 1990s. He was Hon Sec of Bukit Timah Saddle Club (BTSC) for 9 years and Hon Sec of Equestrian Federation of Singapore (EFS) for 3 years. Presently he is the Hon Sec of TOAST. He is actively riding at BTSC and he owns the retired racehorse Goldvision. One of the functions of TOAST is to provide a new lease of life to racehorses after their racing career. Dr Low believes that TOAST is an excellent arrangement for racing enthusiasts to own racehorses at an affordable cost. Through TOAST the stakeholders can share their knowledge and experiences of successful racehorse ownerships.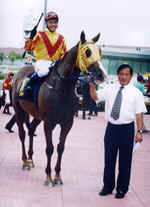 Trainer Dr Yeoh leading in Goldvision after winning his 10th and final race on 6 Jul 2003
• 7 Dec 2004 – TOAST website was officially launched. Congratulations and praises were received from Members, SNTC and friends. They found the website to be informative, transparent, professional…etc.
---
Past Newsletters
Newsletter Jan 2019 - Dec 2019
Newsletter Jan 2018 - Dec 2018
Newsletter Jan 2017 - Dec 2017
Newsletter Jan 2016 - Dec 2016
Newsletter Jan 2015 - Dec 2015
Newsletter Jan 2014 - Dec 2014
Newsletter Jan 2013 - Dec 2013
Newsletter Jan 2012 - Dec 2012
Newsletter Jan 2011 - Dec 2011
Newsletter Jul 2010 - Dec 2010
Newsletter Jan 2010 - Jun 2010
Newsletter Jan 2009 - Dec 2009
Newsletter Mar 2008 - Dec 2008
Newsletter Feb 2007 - Feb 2008
Newsletter Jul 2006 - Jan 2007
Newsletter Dec 2005 - Jun 2006
Newsletter Aug 2005 - Nov 2005
Newsletter May 2005 - Jul 2005
Newsletter Mar 2005 - Apr 2005
Newsletter Nov 2004 - Feb 2005