• 30 Apr 2005 – The 2 TOAST Racing Trusts have attracted the attention of people from all walks of life and professions. Some of these people have never been involved at all in horse racing. People who have taken up shares in the TOAST Trusts included those in professions such as teaching, building architecture, construction, travel agency and civil engineering. Most of these people attend the races only to cheer their own horses on the days when their horses are running in the races.
For those who are interested in joining the TOAST Trust, there is one share still available in Trust No. 1. However, all shares in Trust No.2 have been taken up.
• 29 Apr 2005 – TOAST's membership now stands at 60. No advertising has been made on TOAST yet. Therefore it will be appreciated if TOAST members can help to increase the membership before TOAST put out an advertisement.
• 29 Apr 2005 – An amendment has been made on the "Use of Proceeds" in the Formation & Structure for TOAST Trusts to indicate the breakdown of proceeds utilised per horse. All TOAST Trust stakeholders who wish to know the cost breakdown can refer to the Formation & Structure under the TOAST Racing Trust section of the website.
• 21 Apr 2005 – The Pro-Am Race Meeting at Selangor Turf Club in Kuala Lumpur was successfully held. TOAST members and other horse owners who wish to retire their horses in professional racing can contact Constance Cheng (HP: 96792684) if the horses are sound for amateur racing.
• 17 Apr 2005 – Mr Lim Fang has taken the last share in TOAST Trust No. 2. Mr Lim Fang is a businessman dealing with ceramic tablewares and sanitary wares under PT Sango Ceramics Indonesia and PT Inax International Corporation. His hobby is breeding horses. At present, he has 3 stallions and about 20 mares including the 3 mares (California Girl, Tsugunai and Sobakasu) that were shipped out to him recently (see report dated 5 Apr 2005 below).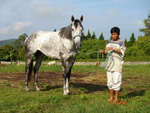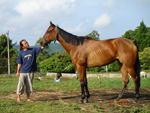 California Girl Tsugunai Sobakasu
The 3 ex-racehorses from Singapore now standing at Lim Fang's farm in Indonesia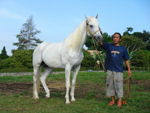 Godsarc (Godswalk - Tristarc)
One of the stallions at Lim Fang's farm
• 15 Apr 2005 – TOAST is grateful to Mrs Lily Ho (a friend of TOAST members) for her assistance in filing the statement of accounts for year of assessment 2005. TOAST would also like to thank the 2 volunteer members Ms Julia Ho and Mr. Tan Chen Khim for auditing the accounts.
The accounting statements are as follows:
For the period 7 Oct 2003 – 31 Dec 2003 : Loss of S$1,080.
For the period 1 Jan 2004 – 31 Dec 2004 : Profit of $5,563.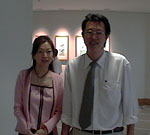 Julia and Khim at the Kranji races on 22 Apr 2005
• 14 Apr 2005 – One of TOAST's services is to assist members who need help in putting their cases to SNTC (Singapore Turf Club) if they find that their horses are not given every possible chance of winning the races.
On 25 Feb 2005, Constance Cheng, the TOAST president and also the Racing Manager of Mr Strategiser lodged a complaint that Jockey Mark du Plessis had not ridden the horse according to the trainer's instructions. The Stewards conducted an inquiry and decided to warn du Plessis to ride all his mounts to the given instructions wherever possible.
• 07 Apr 2005 – Condolences were sent to trainer Charles Leck and his family on the demise of Charles Leck's mother on 6 Apr 2005. On behalf of the committee and members, a wreath was sent by TOAST.
• 05 Apr 2005 – In line with TOAST's objective of providing a new lease of life to ex-racehorses, 3 mares (California Girl, Tsugunai and Sobakasu) were successfully shipped to Indonesia for breeding and leisure purposes.
California Girl had 4 wins in Singapore while Tsugunai and Sobakasu had 9 and 2 wins respectively in Japan before coming to Singapore.
• 15 Mar 2005 – SLA (Singapore Land Authority) informed TOAST that it would consult PUB again on the proposed interim use of the stables at the former Turf Club at Bukit Timah for the spelling of race horses. With the sanction of SNTC (Singapore Turf Club), TOAST was encouraged to find a suitable site for spelling horses and riding facilities for our members at an affordable cost. TOAST has been discussing with SLA since 13 Apr 2004 for a suitable site.
• 15 Mar 2005 – Mr Steven Cheow has been appointed as a co-opt TOAST Committee Member.
Steven with a 2yo Al Akbar gelding in New Zealand
• 10 Mar 2005 – SNTC sent a copy of the revamped MRA Rules of Racing to TOAST for feedback. TOAST's feedback was mainly on the composition of the Appeal Board. TOAST would like to see that the Appeal Board be run independently like the one currently in Australia. The Australian Appeal Tribunal was set up by the Australian Government and consists of experienced people in racing and knowledgeable in the rules of racing. For example, these people can be ex-stipendiary stewards, ex-trainers, ex-jockeys and legal personalities. This will ensure that there is "natural justice".
The current composition of the MRA Appeal Board lacks this kind of combination and they may not be so well versed in the finer points of the rules and regulations.
---
Past Newsletters
Newsletter Jan 2019 - Dec 2019
Newsletter Jan 2018 - Dec 2018
Newsletter Jan 2017 - Dec 2017
Newsletter Jan 2016 - Dec 2016
Newsletter Jan 2015 - Dec 2015
Newsletter Jan 2014 - Dec 2014
Newsletter Jan 2013 - Dec 2013
Newsletter Jan 2012 - Dec 2012
Newsletter Jan 2011 - Dec 2011
Newsletter Jul 2010 - Dec 2010
Newsletter Jan 2010 - Jun 2010
Newsletter Jan 2009 - Dec 2009
Newsletter Mar 2008 - Dec 2008
Newsletter Feb 2007 - Feb 2008
Newsletter Jul 2006 - Jan 2007
Newsletter Dec 2005 - Jun 2006
Newsletter Aug 2005 - Nov 2005
Newsletter May 2005 - Jul 2005
Newsletter Mar 2005 - Apr 2005
Newsletter Nov 2004 - Feb 2005