• 30 Nov 2005 - The number of TOAST members now stands at 72.
• 26 Nov 2005 - TOAST would like to express their regret to 9 members on the demise of their horse, Mr Strategiser. Mr Strategiser was put down on humanitarian ground after rupturing his tendon and ligament during his morning workout.
• 25 Oct 2005 - 31 members and friends of the Bukit Timah Saddle Club were invited by TOAST to a night of thrill and excitement at the Singapore Kranji races. The aim was to introduce them to horse racing apart from their horse dressage and jumping activities. Hopefully, it will also attract their interest in having a share in owning a racehorse.
BTSC members & friends at the Kranji races

(L to R) Jeanette, Mrs Mel Burr, Mr & Mrs Swindon and Angela
(L to R) You Na, Angie, Franz, Wai Mun, Kevin and Japanese friend Joddy

Anne (R) with friend Odine
(L to R) Nancy and Amanda

(L to R) Philippe, Millie and Mathias
(L to R) Liz, Suchi and Michiel
• 30 Oct 2005 - TOAST has received feedback that some members cannot open the pdf files posted on the TOAST website. This may be because the software "Adobe Acrobat Reader" is not installed on their PC. For information on downloading and installing of the free copy of the "Adobe Acrobat Reader", please visit the Adobe website at www.adobe.com/acrobat.
• 4 Oct 2005 - TOAST President, Constance Cheng and three TOAST members attended the Magic Millions sale at the Gold Coast on 4-5 Oct. At the sale, Constance and one of the TOAST members purchased a horse each. While in Queensland, TOAST member Cameron McPhie was very kind to bring them to tour Craiglea Stud, the birthplace of Falvelon (a dual Group 1 winner) and Calaway Gal (2002 Golden Slipper winner).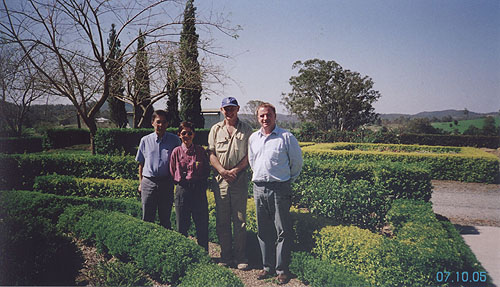 Craiglea Stud, birthplace of Falvelon and Calaway Gal
L to R: Steven, Constance, Stan Johnston (Owner of Craiglea Stud and Committee Member of Thoroughbred Marketing Queensland) & Cameron
• 5 Sep 2005 - TOAST has communicated to SNTC with comments and feedback on horse ownership in Singapore on 15 Aug 2005. SNTC has replied and "assured that the Club would take our feedback and suggestions into consideration (where possible and practical) when planning for the betterment of horse racing in Singapore". These communications are available to TOAST members only on the "Dialogue with SNTC" section of this website.
TOAST has received feedback from members who expressed dissatisfaction on the track condition, handicapping system, balloting out of their horses and the cancellation of the races. TOAST has reviewed their comments (3 of the points already highlighted to SNTC in TOAST's feedback) and will follow up on the matter with SNTC in due course.
• 3 Sep 2005 - Hello And Goodbye, who gave TOAST members Mr. & Mrs. Lui Yong Hock their biggest success in the S$800,000 Group 1 Emirates Singapore Derby race on 17 Jul 2005 had been put down on humanitarian ground when he fractured his near fore. However, we are glad to note that Mr and Mrs Lui are able to get through the ordeal of losing a good horse and continue to own and race horses.
• 1 Sep 2005 - TOAST announced the formation of TOAST Trust No. 4 and 5 with the lease of two Senor Pete horses. More information can be found on the "TOAST Racing Trust" section of this website.
---
Past Newsletters
Newsletter Jan 2019 - Dec 2019
Newsletter Jan 2018 - Dec 2018
Newsletter Jan 2017 - Dec 2017
Newsletter Jan 2016 - Dec 2016
Newsletter Jan 2015 - Dec 2015
Newsletter Jan 2014 - Dec 2014
Newsletter Jan 2013 - Dec 2013
Newsletter Jan 2012 - Dec 2012
Newsletter Jan 2011 - Dec 2011
Newsletter Jul 2010 - Dec 2010
Newsletter Jan 2010 - Jun 2010
Newsletter Jan 2009 - Dec 2009
Newsletter Mar 2008 - Dec 2008
Newsletter Feb 2007 - Feb 2008
Newsletter Jul 2006 - Jan 2007
Newsletter Dec 2005 - Jun 2006
Newsletter Aug 2005 - Nov 2005
Newsletter May 2005 - Jul 2005
Newsletter Mar 2005 - Apr 2005
Newsletter Nov 2004 - Feb 2005