1 Jan to 31 Dec 2018 - TOAST had a moderate year, rounding with a total of 5 wins. The winning races were run by Charger (2), Classic (1), Fame Star (1) and Reign (1).
1 Jan to 31 Dec 2018 - TOAST had several exchanges throughout the year with the STC Management to discuss our views and concerns on horse racing matters.
1 December 2018 - President Ms. Constance Cheng and Treasurer Ms. Julia Ho sponsored cash of $2,000 for YYD Education Centre (YYDEC) Annual Bursary Award held at Singapore Turf Club. YYDEC is a MOE granted Charity Status Education Centre. YYDEC runs free evening tuition classes to help students academically from the lower income Singaporean families, regardless of religion or ethnic group since 2013.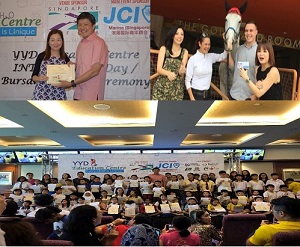 click here for enlarged photo
YYDEC Annual Bursary Award
21 October 2018 - Old time TOAST Member Dato' Tan Chin Nam has passed away. Dato Tan was a principal owner of Bart Cummings, one of Australia's most successful horse trainers. He has accomplished a great feat in the Horse Racing industry by winning the Melbourne Cup four times. The Horse Racing fraternity has lost a great man and will miss Dato Tan. R.I.P Dato Tan.
16 August 2018 - TOAST Trust Horse, Seventh Heaven was sold to Thailand and will continue racing there
19 July 2018 - TOAST Trust Horse, Untapped was sold to Thailand.
1 June 2018 - TOAST arranged for Ms. Rane Hu to meet with STC Management for Syndication prospects but the plan did not follow through and thus did not materialize. Ms. Rane Hu presented a banner to TOAST.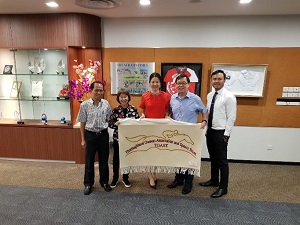 click here for enlarged photo
Ms. Rane Hu meeting with STC & TOAST
10 May 2018 - TOAST wishes to thank Mrs. Lily Ho for the preparation of the TOAST Statement of Accounts for the Year of Assessment 2017 and members Mr. Lim Swee Ann and Ms. Ko Hong Bee for contributing their time to the completion of the audit as Honorary Auditors.
22 March to 4 April 2018 - The court heard over a span of 4 days on the case of then-Trainer Mr David Hill vs TOAST Member Mr. Hong Kai Oh. Ultimately, Mr Hill succeeded on the greater part of his claim against Mr Hong, although the sums due were reduced. TOAST sympathizes with Mr. Hong and feels that the judgement could be better if the Judges and lawyers were more familiar with the Horse Racing Industry. Of concern is the conduct of a particular STC Veterinarian who had treated one of Mr Hong's horses. This Vet acted as a witness for Mr Hill at the trial, which was considered unprofessional, as STC officials should remain impartial in court disputes between trainers and owners.
8 January 2018 - TOAST attended the Singapore Racing Awards 2017 at John Jacob Ballroom, St Regis Hotel. Charger was one of the 3 nominees for the Champion 2 Year Old. Be Bee won the award in the end. However, Charger was nominated for winning the most prizemonies in the 2 year-old Series and awarded a $80,000 bonus on 7 July 2017.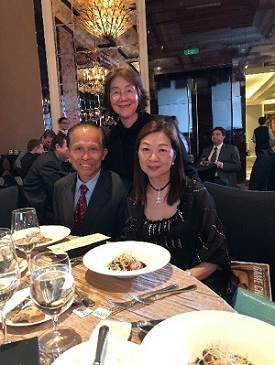 click here for enlarged photo
TOAST at Singapore Racing Awards 2017 Dinner
---
Past Newsletters
Newsletter Jan 2020 - Dec 2020
Newsletter Jan 2019 - Dec 2019
Newsletter Jan 2018 - Dec 2018
Newsletter Jan 2017 - Dec 2017
Newsletter Jan 2016 - Dec 2016
Newsletter Jan 2015 - Dec 2015
Newsletter Jan 2014 - Dec 2014
Newsletter Jan 2013 - Dec 2013
Newsletter Jan 2012 - Dec 2012
Newsletter Jan 2011 - Dec 2011
Newsletter Jul 2010 - Dec 2010
Newsletter Jan 2010 - Jun 2010
Newsletter Jan 2009 - Dec 2009
Newsletter Mar 2008 - Dec 2008
Newsletter Feb 2007 - Feb 2008
Newsletter Jul 2006 - Jan 2007
Newsletter Dec 2005 - Jun 2006
Newsletter Aug 2005 - Nov 2005
Newsletter May 2005 - Jul 2005
Newsletter Mar 2005 - Apr 2005
Newsletter Nov 2004 - Feb 2005