Overview – Whilst Singapore horseracing has been declining, it went into a crisis in 2020, with three long months of no-racing during COVID-19 Circuit Breaker from mid-April to mid-July. After racing reopened it was run behind closed doors, staged before an empty grandstand. Races were reduced to once a week and many feature races were either scrapped or rescheduled with reduced prize monies. TOAST had been pressing STC during the circuit breaker period to reopen racing and subsequently criticized the drastic reduction in feature race prize monies and their numbers. TOAST Racing Trust had a bad year with a win by Fame Star, partly due to the pandemic resulting in uncertainties of racing schedule, limited racing opportunities, and many entries were balloted out.
08 Nov 2020 – TOAST wrote to the STC P&CE Ms Irene Lim to request a Zoom meeting for STC to assure owners of a bright racing plan and direction for 2021/2022 (at least two years) from the Club while it is addressing how to achieve its turnover target and other pressing issues. This assurance is very crucial to owners in planning for our existing horses and our horse replenishment from overseas. However, STC has yet to confirm the meeting.
12 August 2020 – TOAST wrote to the new STC P&CE Ms Irene Lim highlighting the enormous impacts on owners caused by STC' shortsighted management. Owners were badly hit by the hasty announcement on 29 July regarding cancellation of feature races and drastic reductions of its prize money. These top-quality horses are the ones that bring crowd and glory if they represent us on the world-racing scene. The industry needs confidence that there is a way forward through the challenges. There is no use in making cuts if there is no future vision everyone can buy into.
06 May 2020 – TOAST wishes to thank Mrs. Lily Ho for the preparation of the TOAST Statement of Accounts for the Year of Assessment 2020 and members Mr Fendi Lawrence and Mr Lee Chee Guan for contributing their time to the completion of the audit as Honorary Auditors.
13 April 2020 – TOAST submitted a proposal to the Government advising the continuation of horse racing during the pandemic situation. The other racing industries have already demonstrated their abilities to implement and comply with strict biosecurity and social distancing measures within their operating environments. Measures for management of the race day environment are available from other jurisdictions and can be readily adopted for use in Singapore. Strong leadership of the STC is essential at this critical time to ensure racing continues without compromising the health and welfare of participants, horses and the community. Moving forward, a capable leadership with horse knowledge is a must, along with the Tote Board to develop a strategic plan to ensure that racing in Singapore is sustainable.
24 Feb 2020 – TOAST representatives met with Tote Board directors to give feedback on possible ways to improve horse racing in Singapore which is behind successful racing countries in our region like Japan, Hong Kong and Australia, with South Korea fast catching up. The reason is mainly prizemoney levels. Comparing with HKJC as a role model, Singapore racing has declined mainly due to relatively inexperience management and tight Government control. Owners and trainers who have a vested financial interest in the success of Singapore racing are a very unhappy and worried group of people.
06 Feb 2020 – TOAST top sprinter Fame Star showed no loss of form at his racing return in the $100,000 Stepitup 2015 Stakes, a Kranji Stakes A 1200m race. Rested since his Group 2 EW Barker Trophy (1400m) win on 8th November 2019, it is his eighth win with the last six scored in a row.
click here for enlarged photo
Fame Star winning Kranji Stakes A
15 January 2020 – TOAST Committee Members (Ms Constance Cheng and Dr Low Hong Tong) had an afternoon tea with 46 year-old, former jockey Sam bin Subian at Artisan Boulangerie, Vivocity. Jockey Sam Subian had a fall during a barrier trial back in 2017. Doctors diagnosed him with having complete spinal cord injury with no bodily sensation below the waist, hence TOAST has offered him financial assistance with TOAST President Ms Constance Cheng donating $17,000 and a member Mr KC Lee $3,000, from the prize money of Fame Star winning the EW Barker Trophy on 8th November 2019.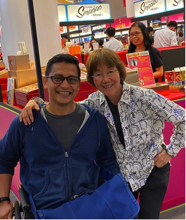 click here for enlarged photo
Constance Cheng and Sam Subian at Vivocity
---
Past Newsletters
Newsletter Jan 2020 - Dec 2020
Newsletter Jan 2019 - Dec 2019
Newsletter Jan 2018 - Dec 2018
Newsletter Jan 2017 - Dec 2017
Newsletter Jan 2016 - Dec 2016
Newsletter Jan 2015 - Dec 2015
Newsletter Jan 2014 - Dec 2014
Newsletter Jan 2013 - Dec 2013
Newsletter Jan 2012 - Dec 2012
Newsletter Jan 2011 - Dec 2011
Newsletter Jul 2010 - Dec 2010
Newsletter Jan 2010 - Jun 2010
Newsletter Jan 2009 - Dec 2009
Newsletter Mar 2008 - Dec 2008
Newsletter Feb 2007 - Feb 2008
Newsletter Jul 2006 - Jan 2007
Newsletter Dec 2005 - Jun 2006
Newsletter Aug 2005 - Nov 2005
Newsletter May 2005 - Jul 2005
Newsletter Mar 2005 - Apr 2005
Newsletter Nov 2004 - Feb 2005