"I applaud the recent formation of the Thoroughbred Owners Association and Sports Trust or TOAST for short. The Association is certainly a step in the right direction. For some time now, the Club has been calling for such an Association to be formed to represent the interests of Singapore owners, a formal group we can work closely with to discuss concerns and issues pertaining to Singapore owners and I am glad that this has come about at this timely juncture."
Excerpt from Speech by
Mr. Koh Yong Guan
Chairman, Singapore Turf Club.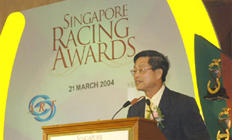 STC Chairman announcing the formation of TOAST to the racing fraternity