• 31 Jul 2005 - The number of TOAST members now stands at 67.
• 30 Jul 2005 - One share of TOAST Trust No. 3 has been taken up. 3 shares are now available.
• 27 Jul 2005 - The Stallions Daily Bulletin in Australia published an article stating that the $251,000 John F.Feehan Stakes-Gr.2 (1600m) at Moonee Valley on September 10 will be known as the Dato Tan Chin Nam Stakes. It is in honour of our TOAST member Dato Tan's donation of funds to the Moonee Valley Racing Club to finance a special spring series to be known as Saintly Spring Star Award. Saintly won the Cox Plate and the Melbourne Cup in 1996 for Dato Tan. "Through the generosity of Dato Tan Chin Nam we have added an exciting new concept to Moonee Valley as well as being able to pay tribute to a man, who has been a huge yet widely underestimated player in Australian racing," Moonee Valley Racing Club chief executive John Cameron says.
• 17 Jul 2005 - TOAST congratulates TOAST members Mr & Mrs Lui Yong Hock for winning the S$800,000 Group 1 Emirates Singapore Derby race over a distance of 2,000m (the third and final leg of the Four-Year-Old Challenge series) where their horse Hello And Goodbye led from start to finish.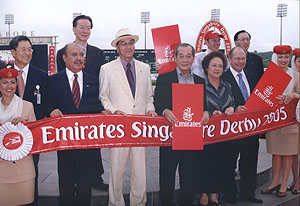 Mr & Mrs Lui with SNTC Committee Members and Sponsor of the Derby
• 17-20 Jul 2005 - TOAST was invited to witness and participate in the Hokkaido Selection Foal and Yearling Sales conducted by the Hidaka Breeders' Association (HBA) and supported by the Japan Bloodhorse Breeders' Association (JBBA). We were treated to an intensive and interesting aspect of Japanese thoroughbred breeding and racing. There was very keen interest by Japanese to promote their thoroughbred for racing in Hong Kong, Korea and Singapore. There were many meetings where our views especially on the high freight cost on bringing their horses to race in Singapore were brought up. We were interested by their facilities and quality of their horses. We were shown their best stallions, breeding and training facilities. They created a very natural atmosphere for the well-being of the racehorses. A lot of trees and bushes were planted to give the horses a chance to relax mentally after the hard exercise and training. We were delighted that the well-being of the horses were emphasized. The horses were very relaxed, calm and well handled even at the foal age. If we only adopt part of what they do, our horses should perform better and last longer in racing. We wish Singapore Turf Club could look into this matter seriously for the benefit of the horse owners.
We were treated to witness the caring of horses by the Japanese racing fraternity. Another interesting visit was the 800m straight uphill indoor track at Northern Farm. The speed of the horses at different stages of the straight is displayed on the monitors in the viewing room for the horse owners. TOAST will one day plan such a trip for its members.
| | |
| --- | --- |
| | |
| Northern Farm indoor track | Indoor track viewing room for horse owners |
• 15 Jul 2005 – The Jul-Aug 2005 issue of the SNTC publication Winning Post featured an article on the group ownership of racehorses in Singapore. TOAST is mentioned as one of the organisations that is a part of that.
• 23 Jun 2005 – "Lucky Jewel", the horse selected for TOAST Trust No 2 has been replaced by
"Inthesun". With the replacement, 4 more shares are now available in TOAST Trust No. 2.
There are also 4 shares available for subscription in TOAST Trust No. 3. The horse selected is "All
Ready".
More information on these 2 Trusts are posted in the "TOAST Racing Trust" section of the website.
• 22 Jun 2005 – Fleuridee Florist (established for 33 years) is pleased to offer all TOAST members
15% discount on all orders anytime the need arises.
Michael Ong, the Director Designer at Fleuridee is an artist with more than 30 years track record. He was the appointed florist for:
USA President George Bush's Visit to Singapore

The Sultan of Brunei's State Visit to Singapore

Queen Elizabeth II of England's State Visit to Singapore

Chow Yuen Fatt's wedding
TOAST members can contact Fleuridee for their services on occasions such as:
Corporate Functions

Baptism

Weddings

Convalescence

Business Inauguration

Bereavement
TOAST members can also contact Fleuridee for courses on Floral Design.
Fleuridee can be contacted at tel 64735191, fax 64731592 or email milfleur@pacific.net.sg or you can visit them at Blk 8 Empress Road #01-21 S260008.
Samples of Fleuridee's floral products: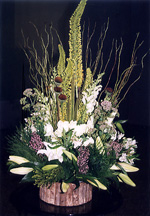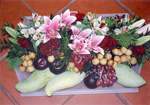 • 1 May 2005 – TOAST is pleased to have Mr Tan Tjo Teck as an adviser on aspect of racing and breeding. He has tremendous success as an owner in racing since 1967.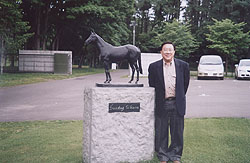 Tjo Teck and statue of "Sunday Silence" at Shadai Stallion Station in Japan
_____________________________________________________________________________
Past Newsletters
Newsletter Mar 2005 - Apr 2005
Newsletter Nov 2004 - Feb 2005