1 Jan to 31 Dec 2016 - TOAST had a moderate year, rounding with a total of 7 wins. The winning races were run by War Citi (1), Falkirk Lead (2), The Jeuneyman (3), and Bandido (1).
1 Jan to 31 Dec 2016 - TOAST had regular meetings throughout the year with the STC Management to discuss and exchange views on horse racing matters.
11 to 12 Oct 2016 - TOAST purchased three 2 year-olds from the Magic Millions 2016 Gold Coast 2YOs In Training Sale. Out of the three 2 year-olds, two are fillies (Lot 124 and Lot 306) and one is a colt (Lot 117).

click here for enlarged photo
Lot 117 - "Snitzel x Royale Harvest" 2014 Bay Colt
9 Oct 2016 - TOAST was invited to visit Aquis Farm, well equipped with breeding, agistment and training facilities in Queensland.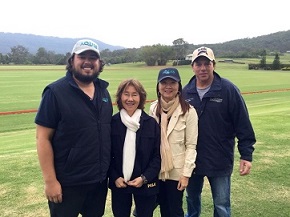 click here for enlarged photo
Left to right: Justin Fung, Constance Cheng, Julia Ho, Stephen Crutchley
8 Sep 2016 - Makkura was served by New Zealand Stallion, Per Incanto at Little Avondale Stud.
26 Jul 2016 - The suit President Ms Constance Cheng had brought against TOAST ex-trainer, Mr Mark Walker was an amicable success, settled via mediation.
7 Jun 2016 - TOAST would like to congratulate our Treasurer, Ms Lelia Ho on being awarded her first Horse PP Import Permit from the HKJC.
6 Jun 2016 - TOAST would like to offer our sincere condolence to the family members of Mr Alan Simpson, a former partner of Makkura, whom had passed on.
18 May 2016 - TOAST highlighted our concerns to STC on the condition of the air-conditioners and the poorly maintained environment at the village stables where TOAST horses are stabled. TOAST suggested that a stricter standard of cleanliness of stables amongst trainers were imposed to preserve the welfare of the horses.
6 May 2016 - Makkura, TOAST Group 3 mare had safely arrived in Little Avondale Stud, New Zealand to retire as a broodmare.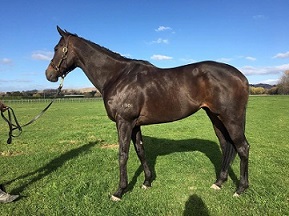 click here for enlarged photo
Makkura has settled in nicely and is looking very well.
28 Apr 2016 - The feedbacks received throughout the year of 2015 with regards to the Singapore racing pattern were brought up to Mr Soong Tze Ming of Singapore Turf Club (STC).
28 Apr 2016 - An open letter thanking Singapore from the Hong Kong Jockey Club (HKJC), was published on the South China Morning Post for "one of the best races on the planet in 2016, the Chairman's Sprint Prize".
20 Apr 2016 - TOAST wishes to thank Mrs Lily Ho for the preparation of the TOAST Statement of Accounts for the Year of Assessment 2016 and members Mr Lin Chentai and Mr Fendi Lawrence for contributing their time to the completion of the audit as Honorary Auditors.
10 Mar 2016 - TOAST Trust horse, Mala Mala, was sold to Thailand.
2 Mar 2016 - TOAST was saddened by the death of the former MRA Jockey, A. John at the age of 52. John taught President Ms Constance Cheng on the usage of draw reins to steer Kamsky, a retired race horse at Bukit Timah Saddle Club. John had also advised President Ms Constance Cheng on fitness best for riding. A wonderful time was shared during the few months John was in Singapore. The memorable time spent with John will always be a part of President Ms Constance Cheng.
15 to 16 Feb 2016 - TOAST purchased three yearlings (Lot 60, Lot 117 and Lot 249) from the Magic Millions Perth Yearlings Sales.
28 to 31 Jan 2016 - TOAST purchased three yearlings (Lot 718, Lot 1037 and Lot 1175) from the New Zealand Bloodstock Selected/Festival Yearling Sales.
---
Past Newsletters
Newsletter Jan 2020 - Dec 2020
Newsletter Jan 2019 - Dec 2019
Newsletter Jan 2018 - Dec 2018
Newsletter Jan 2017 - Dec 2017
Newsletter Jan 2016 - Dec 2016
Newsletter Jan 2015 - Dec 2015
Newsletter Jan 2014 - Dec 2014
Newsletter Jan 2013 - Dec 2013
Newsletter Jan 2012 - Dec 2012
Newsletter Jan 2011 - Dec 2011
Newsletter Jul 2010 - Dec 2010
Newsletter Jan 2010 - Jun 2010
Newsletter Jan 2009 - Dec 2009
Newsletter Mar 2008 - Dec 2008
Newsletter Feb 2007 - Feb 2008
Newsletter Jul 2006 - Jan 2007
Newsletter Dec 2005 - Jun 2006
Newsletter Aug 2005 - Nov 2005
Newsletter May 2005 - Jul 2005
Newsletter Mar 2005 - Apr 2005
Newsletter Nov 2004 - Feb 2005